If you've got a case of acne, odds are you want to get rid of it. Even though it's not a serious health issue, it's unattractive and sometimes painful, so why not do what you can to treat it?
There are many different ways to treat acne, but we'll be looking at a specific one today: tea tree oil. We'll go over how tea tree oil works at eliminating acne and how to use it on yourself, and we'll also discuss a few alternative acne treatment products.
What Causes Acne?
There are many kinds of acne, like cystic acne, hormonal acne, and comedonal acne, which is probably the most common variety. Comedonal acne tends to manifest as blackheads and whiteheads, two ubiquitous kinds of acne.
Acne starts to develop when your pores get blocked up with dead skin cells, body oil (sebum), and other assorted dirt and debris. If your pores are only partially blocked, this results in blackheads, but if enough dead skin and oil get trapped in there, it can block your pores completely and result in whiteheads.
Blackheads turn black because your sebum contains pigments which oxidize after exposure to air. Whiteheads are white because the pores are completely blocked, and no air is able to get in.
Acne usually doesn't cause discomfort other than looking kind of gross, but in severe cases, the clogged pores can become mildly infected with bacteria, causing painful inflammation. There are lots of things that can give you a case of acne aside from your own dead skin and sebum. Heavy facial creams and oil-based makeup can easily cause you to break out.
If you're a younger person, hormonal changes can also cause you to develop excessive acne. It happens because your sebaceous glands start producing a lot more sebum when you enter puberty, which is quite unhelpful when it comes to keeping your pores clean and unblocked.
Other factors that can cause acne are unhealthy eating habits, excessive levels of stress, smoking, and uncontrollable genetic factors.
How Does Tea Tree Oil Treat Acne?
As you might already know, tea tree oil is extracted from the leaves of the Australian tea tree. This oil has been long used for various medicinal purposes and is still used today for many reasons, including skin health.
But what is it about tea tree oil that's so good for your skin? Well, let's take a look.
For one, tea tree oil has anti-bacterial and anti-inflammatory properties, which can help eliminate the bacteria that cause pimples and lessen some of the painful swellings.
This oil is also effective at penetrating deep into blocked pores, where it's able to unstick the buildup of oil and dead skin cells and get those pores unclogged.
Tea tree oil is also effective at removing unwanted grease and dirt from your skin, which can help prevent your pores from getting clogged in the first place.
Because of its antibacterial effects, using tea tree oil topically can not only get rid of existing acne but also potentially stop new acne from forming altogether.
How to Use Tea Tree Oil?
If you've never used tea tree oil before, it's pretty simple to apply for the most part. However, there are a couple of things to keep in mind before using it.
First, you can't just use the oil on its own. Tea tree oil is quite potent. Applying it undiluted to your skin can potentially cause your skin to become irritated, which is obviously counter-productive to what you're trying to do.
To dilute it, mix one or two drops of tea tree oil with some type of carrier oil. Carrier oils are meant to be used in conjunction with essential oils to deliver them to your skin without causing irritation. You can use coconut oil, jojoba oil, olive oil, avocado oil, or sunflower oil, among others.
Before trying tea tree oil on your face, put a little dab of the diluted oil on the inside of your elbow to test it out. If you start seeing any kind of allergic reaction happening in that area, avoid using the oil on your face.
If you don't have a negative reaction to the oil, then make sure your face is clean and dry, and use a cotton pad or a q-tip to apply the oil to the spots you want to treat.
Then, just repeat this process every day until you start seeing results!
Safety Tips for Using Tea Tree Oil
Tea tree oil can potentially be harmful if you use it incorrectly. Here are some tips to keep you safe and healthy while using tea tree oil for acne.
Despite the fact that it contains "tea" in the name, don't ever drink tea tree oil. It can cause a loss of muscle coordination and feelings of confusion.
Avoid getting tea tree oil in your eyes.
Only use tea tree oil as a spot treatment. Don't apply it to your entire face.
Don't use tea tree oil simultaneously with other products used to treat acne.
Don't continue to use tea tree oil if you start experiencing negative reactions from it.
Don't use tea tree oil on broken, irritated, or dry skin.
Alternatives to Tea Tree Oil
If you have a negative reaction to tea tree oil, have no fear. There are plenty of alternative products out there that are just as effective at treating acne.
Here are three we'd recommend:
ClearPores
If you're looking for a really effective way to deal with acne, you should absolutely check out ClearPores.
When you order from ClearPores, you get a whole package of products, which include an anti-bacterial herbal supplement, an exfoliating facial wash, and a moisturizing cream that also protects you from developing more acne later.
---
Revitol Acnezine Solution
Revitol Acnezine is another product you should consider if you're not a fan of using tea tree oil on its own.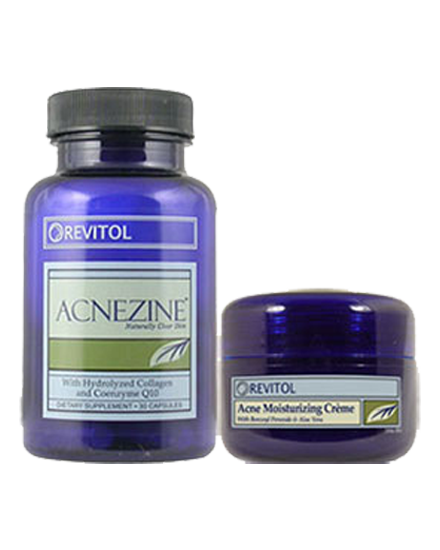 This product actually contains some amount of tea tree oil, but in a lower concentration than you would get just on its own. It also contains other helpful ingredients for treating acne, like benzoyl peroxide, witch hazel, and lemon peel oil.
Revitol Acnezine can be used on both your body and your face and is suitable for people of all ages.
---
Neutrogena Rapid Clear
If you're thinking you want a product from a more familiar brand, Neutrogena has you covered.
The main active ingredient in this cream is benzoyl peroxide, which, as we know, is excellent at treating acne. It's also priced a lot more reasonable than the other two products listed above, although it may not offer quite as much for your money as ClearPores does, for example.
---
Get Rid of Your Acne Once and for All!
If you're looking for an effective acne treatment, then consider giving tea tree oil a shot. It's an all-natural product, and it's been proven to be great at what it claims to do.
And if tea tree oil doesn't agree with you, there are plenty of other skincare options out there for you to choose from. With time, you'll be sure to find the solution that will help you clear up your acne permanently!